How-to really wipe your Hard Disk drive data before disposal
Now you have you new shiny 750GB HD, you've moved your data, and your good, trusted, but old HD is going for retirement?
You know you should "secure erase" it, but how can you trust the tools
Are you really paranoid? Really?

Read this: secure del
So try out this if you run linux: wipe
Or this if your PC runs another OS but can boot from CD or floppy: dban
If you're still in doubt and brave enough follow this brief tutorial.
Obviously if you go on... well your paranoia is shifted on the right of the Gaussian curve!
Usage:
this tutorial is for DEFINITIVE DATA DESTRUCTION when your drive is broken or old
NOR DATA NOR HARD DRIVE WILL EXIST ANY MORE
Caveat:
all this stuff is for REAL people, hackers and not for geek && nerds who can't keep themselves in contact with reality.
This is because the tools used here can REALLY HURT YOU.
I REALLY DON'T MIND IF YOU SHORTEN YOU FINGERS
***:
I CAN'T STRESS ENOUGH: THIS STUFF IS REALLY DANGEROUS.
IF YOU DON'T KNOW WHAT YOU'RE DOING DO YOURSELF A PLEASURE AND GIVE UP.
So, you're here, let's go:
find out the right torx screwdriver, 18x50 should be OK
before unscrew: 10 seconds and the warranty is void, you know!
open the Hard Drive, this is the easy part

separate plastic, electronics, and metal so to dispose them properly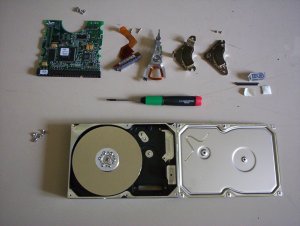 you should end with only the aluminium base, the motor and the bare disk plate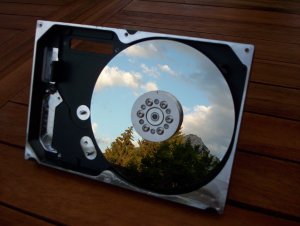 This is not a photoshop artwork! This is really my old HD reflecting the mountain near me!


now drill to enlarge the holes

go outside and fix your drive on a large wood table

find an old "good friction" pair of shoes
my old 5-10 were advertised to have "the best friction on earth sole"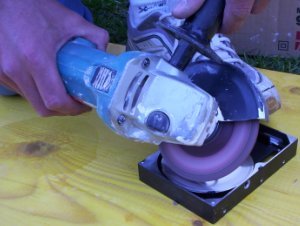 while gently pressing one side of the disk plate with you foot "erase" gently (the plate is thin and the tools are powerful) on the other
if you find the right angle the flex disk will "walk" slowly near the middle of the HD plate
Be very careful... the disk will spin very fast!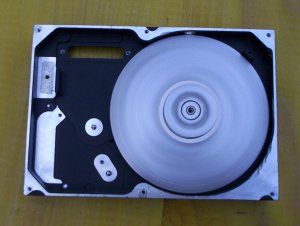 use one more your screwdriver, put the plate upside-down and close again the screws
wipe this face now
repeat for each plate and each face

now you drive is REALLY BARE METAL so you can now dispose it properly aluminium parts with aluminium, steel with steel etc.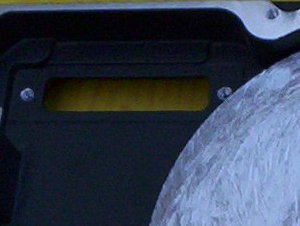 Next step is termite... but here I just let you imagine the tools... :-)
---
Your data is gone... vaporized... NSA won't be able to recover a single bit
isn't it nice?
---
$Id: wipehd.html,v 1.2 2007/08/14 13:05:18 pit Exp $
---