How-to have a public IP DMZ with m0n0wall
Suppose you've got this subnet from your ISP:
x.y.z.128/26
this gives you 62 hosts from x.y.z.129 to x.y.z.190 with 128 as network and 191 as broadcast
To see try:
$ ipcalc 11.22.33.128/26
Given that x.y.z.129 is your router and thus the default gateway for your m0n0wall your WAN configuration will look like this:

So set a WAN IP like this x.y.z.131/26 with x.y.z.129 as default gateway
i used x.y.z.131 to have a single IP (x.y.z.130) to use a machine as an honeypot/test OUTSIDE m0n0wall
Done this you need to activate your optional interface and put it in bridge with WAN.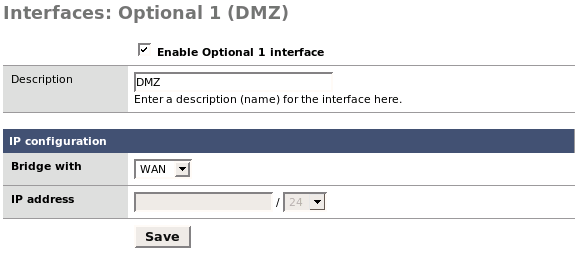 A big note here: you MUST activate "filtering bridge" from "System: Advanced setup"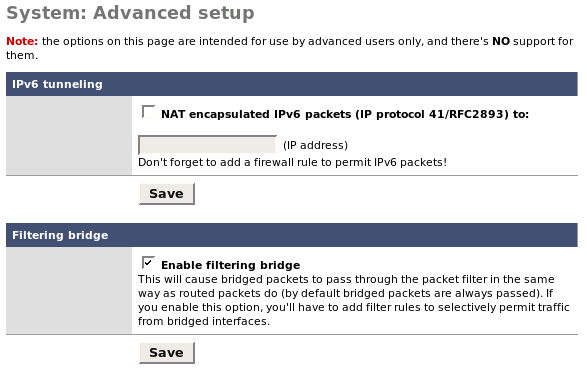 Now the 10 cent tip:
from m0n0wall documentation it's stated that you can't directly talk from a natted interface with a bridged one, this is true. But you can always tell m0n0 to NOT NAT from LAN to DMZ, so go to "Firewall: NAT: Outbound" and check "Enable advanced outbound NAT"
Click SAVE and enter your mapping as in the picture below: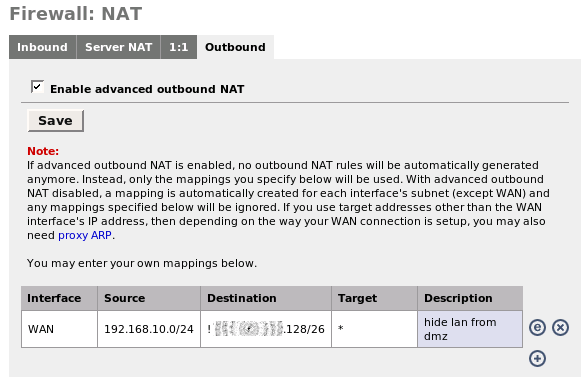 It is:


Interface: WAN
Source: 192.168.10.0/24 (your LAN space)
Destination: NOT x.y.z.128/26 (your DMZ subnet)
Target: * (any)
Description: put your own here...
SAVE your work and Apply Changes as usual
---
Done! Now you can add your rules from LAN to DMZ and from WAN to DMZ as you want and you can land on your DMZ without and "Internet tour"
---